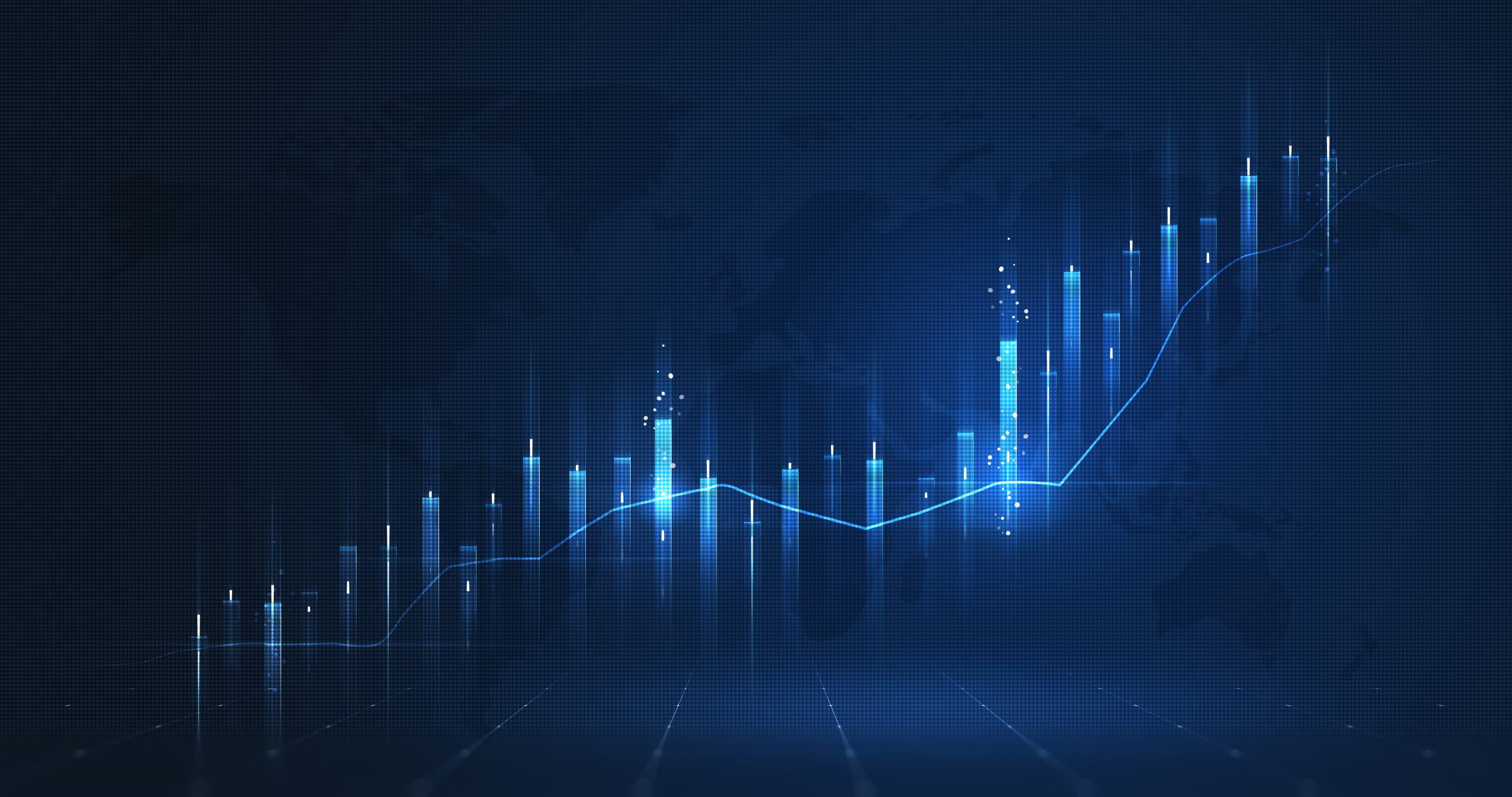 Week in Review – October 20, 2023
This week has brought mixed results for oil markets, with crude oil and gasoline marching higher amidst rocky geopolitical news. On the other hand, diesel has been a bit more range-bound, seeing as much down as up. We'll unpack all of that and more in today's Week in Review.
First, let's look at some of the biggest headlines from the past few weeks. Of course, the Israeli-Hamas conflict is the center focus for global markets, with potential to draw in the US, Iran, and possibly others if it escalates. Already, US war ships deployed to the region have been intercepting missiles from groups aligned with Hamas and Iran, stoking tensions. In other major news this week, the US relaxed sanctions on Venezuela in exchange for freer elections. Before sanctions were imposed in 2017, Venezuela was producing 2.4 million barrels per day; today, they produce less than 1/3 of that. Analysts expect it will take months before oil production can turn around and march higher.
While Venezuela may take a while to hit global supply markets, US supply is already taking center stage. In October, US producers hit a new record-high for weekly oil production, topping 13.2 million barrels per day in the first week of the month.  The previous record, set before COVID-19, was 13 MMbpd. Despite financial uncertainties for oil investments, the industry has thrived this year, keeping the world supplied as other supply sources have dwindled.
One last source of market pressure has been the Federal Reserve. Fed Chair Jerome Powell commented that inflation remains high and job markets are strong, pushing market interest rates higher and creating concerns of future Fed rate hikes. Higher interest rates cause financial tightening in the economy, making it harder for businesses to get loans to grow and expand. That, in turn, causes oil prices to come under pressure as well.
On the more bullish news, the US announced another round of purchases for the Strategic Petroleum Reserve, adding 6 million barrels at a price near $79/bbl. Compared to the previous policy of buying when oil is around $60-$70/bbl, this higher price target suggests that more SPR purchases may come in the future, adding demand to the market.
What does this all mean for oil prices? As always, there is a healthy blend of bullish and bearish news that will keep traders on their toes. For now, most of the market sentiment is focused on the risk of a full-scale Middle East war, with accompanying impacts on the region's many oil producers. That risk is overshadowing the effects of Venezuelan oil, US record production, and possible interest rate hikes. But it only takes one headline to shift the tides and send prices in a new direction – so stay tuned!
Prices in Review
Crude oil opened the week trading at $87.72, in line with higher trading from the previous week. After a slow start, prices began rising on Tuesday, rising steadily through the week towards the $90 level. This morning, crude opened above that level at $90.28, a gain of $2.56 (+2.9%) for the week.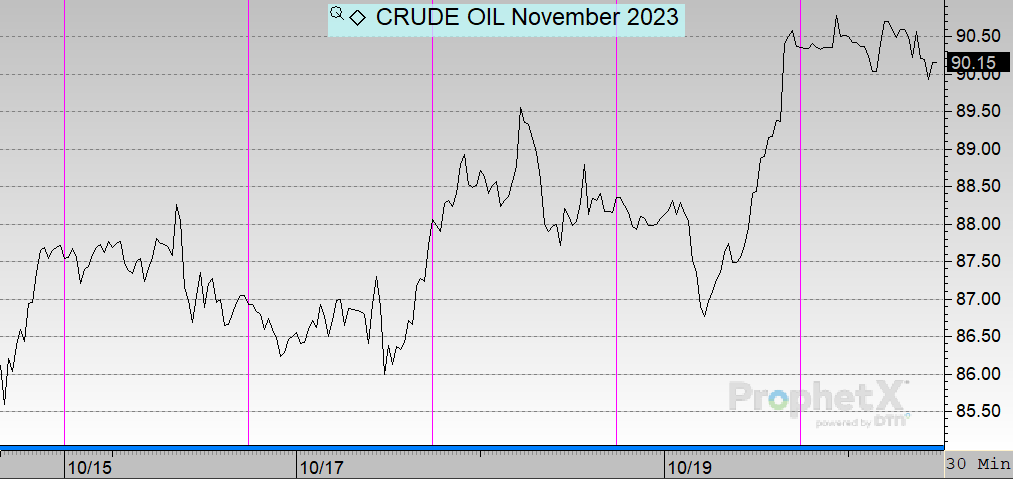 Unlike crude oil, diesel has been a bit less directional this week. After opening at $3.2151 on Monday, the product sank down to $3.12 on Tuesday, though it sprung higher at the end of the trading session. Thursday marked a low point of the week, with prices below $3.10, before the market turned a bit higher. On Friday, diesel prices opened at $3.1830, a loss of 3.2 cents (-1%).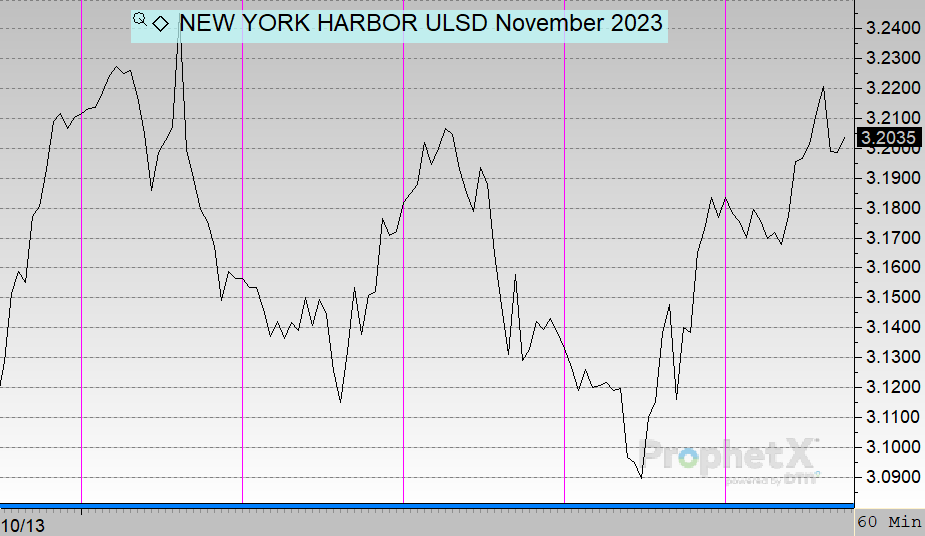 Gasoline was more tightly linked to crude, starting at $2.2690 and rising steadily from there. Continuing a steady up-streak since last Thursday, each session closed higher. On Friday, gasoline markets opened at $2.3756, a gain of 10.7 cents (+4.7%).